Presentazione MASERATI SUPER MONOPOSTO
About event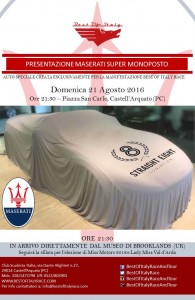 In arrivo direttamente dal museo di Brooklands (UK), la presentazione in anteprima nazionale della Maserati Super Monoposto creata esclusivamente per la Best Of Italy Race, che si terrà a Castell'Arquato dal 16 al 18 Settembre 2016.
Seguite dal vivo il lancio della nuovissima SUPERCAR durante la finale regionale di Miss Motors e l'elezione di Lady Miss Val d'Arda 2016!
Alle ore 21:30 verrà mostrata per la prima volta in Italia nel borgo medievale di Castell'Arquato (PC)  e parteciperà all'evento Best of Italy race durante la prova di regolarità Castell'Arquato – Morfasso, lungo i 26 Km di strada chiusa. Sarà  guidata dalla modella appassionata di Maserati ed esperta driver JODIE KIDD!
MASERATI SUPER MONOPOSTO
9.30pm    21 August 2016
Join us at the Miss Motors Regional Final as we unveil the Maserati Super Monoposto, created exclusively for the Best of Italy Race (16-18 September 2016).
Arriving directly from Brooklands Museum, London, this stunning supercar will be presented in Italy for the first time on 21 August, in the medieval borgo of Castell'Arquato (PC).
The Supermonoposto will be raced by model and racing car enthusiast Jodie Kidd at the Best of Italy Race in September.
To find out more about this stunning 26km route through the heart of the Apennine Mountains go to www.bestofitaly.com
Club Scuderia Italia
via Dante Alighieri n.27
29014 Castell'Arquato (PC)
Off. 0523/803903       Mob. 338/4303112    UK Mob. (0044) 777/2000811
e-mail: info@bestofitalyrace.com