About event
Best Of Italy Festival vi invita al MEETING MASERATI 2016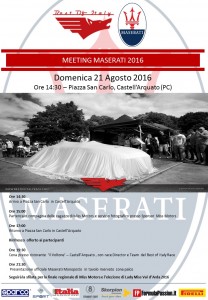 Nuovo appuntamento organizzato dal Best of Italy race, Meeting riservato ai possessori auto Maserati.
Vi aspettiamo Domenica 21 Agosto, in Piazza San Carlo alle ore 14:30 – Castell'Arquato (PC) .
Sarà una giornata speciale in collaborazione con le modelle impegnate per la finale regionale di Miss Motors e Lady Miss Val D'Arda 2016.
I partecipanti drivers che interverranno con il posto passeggero disponibile, potranno ospitare le Miss durante il percorso pomeridiano presso i principali Sponsor  partecipando quindi ai servizi fotografici con le loro auto!!! Un'occasione da non perdere!
Dopo il rinfresco pomeridiano offerto dagli organizzatori della sfilata avremo occasione per confrontarci e per le tradizionali 4 chiacchiere tra appassionati. Seguirà la cena presso l'ottimo ristorante 'Il Voltone'  (i primi 10 drivers che si prenoteranno per  il Meeting, saranno nostri ospiti !!).
La serata proseguirà alle 21:30 con posti in prima fila in tavolo riservato per ammirare la presentazione della Maserati Monoposto realizzata esclusivamente per il Best of Italy race!
Per dettagli visionare calendario della giornata.
Si richiede prenotazione da inviare a info@bestofitalyrace.com
MASERATI MEETS MISS MOTORS
21 August 2016 at Piazza San Carlo, Castell'Arquato 2.30pm
In collaboration with Miss Motors, we are delighted to invite our Maserati club members to join us and Miss Motors Finalists, 2016, for an exclusive opportunity to test the Best of Italy race route.
All drivers with a spare seat are asked to accommodate a Miss Motors competitor in their Maserati through this stunning 26km drive through the Apennine Mountains. They and their cars can also enjoy a photo shoot at the finish line.
The day's program continues with refreshments for all the drivers and an opportunity to socialise with other Maserati enthusiasts. The evening concludes with dinner at Il Voltone, where we look forward to hosting the first ten drivers to confirm as our guests.
We also look forward to unveiling of the new Maserati Monoposto, exclusively created for the Best of Italy Race.
For more information, please see the official program.
To reserve your place, please contact info@bestofitalyrace.com
Best Of Italy Race & Tour
Via Dant'Alighieri 27
29014 Castell'Arquato PC
Tel: (0039) 0523 803903
M: (0039) 3384303112