Breakfast Club – Abarth 10 July
About event
Breakfast Club Meeting - Abarth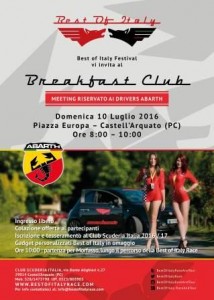 Best of Italy Festival vi invita al Breakfast Club
Meeting riservato auto ABARTH
Domenica 10 Luglio 2016
Al via il prossimo incontro Breakfast Club previsto per il 10 Luglio al fine di coinvolgere gli appassionati possessori di auto italiane alla promozione dell'evento Best of Italy race 16-18 Settembre 2016.
Dopo il meeting dedicato alle auto Alfa Romeo è la volta di ABARTH!
Lo staff organizzativo conta su un'ampia risposta di partecipanti a seguito dei contatti intercorsi con privati e associati a Club Abarth Emilia Romagna-Lombardia e Liguria. Tutti i modelli sono ammessi. Il punto di ritrovo resta fissato in piazza Europa a Castell'Arquato. Dalle ore 8:00 alle ore 10:00 lo staff e il Race Director offriranno l'ormai consueta colazione. Scambi di opinione, possibilità di tesserarsi al Club Scuderia Italia, le classiche quattro chiacchiere tra appassionati del settore ed infine il servizio fotografico alle auto con le modelle di Miss Motors condiranno la prima parte della mattinata. Dalle ore 10:00 si rimonterà in auto in direzione Morfasso percorrendo i 26 km di tragitto del Best of Italy race lungo le sinuosità del fiume Arda e costeggiando lo specchio d'acqua della diga di Mignano.
Punto di arrivo: Morfasso. Qui, per chi vorrà proseguire la giornata in compagnia, è previsto il "Pranzo Insieme" con menu completo €20 (prenotazione obbligatoria da comunicare a info@bestofitalyrace.com).
Via Dante Alighieri 27
29014 Castell'Arquato PC
Tel: (0039) 0523 803903
M: (0039) 3384303112 / (0039) 3281473798